Brookings Area United Way fights for the health, education, and financial stability of every resident in Brookings County.
Brookings Area United Way:
Uniting people, sharing resources, inspiring hope and enriching lives for a stronger Brookings County.
Brookings Area United Way:
A community where all children and families live in a safe and nurturing environment with the same opportunities for success.
We believe in being the best we can be
Every dollar is crucial to the work being done and we believe that our donors should know how they are impacting the community. For transparency with our supporters, we maintain a Platinum Seal of Transparency from GuideStar and the Membership Requirements Certification from United Way Worldwide. 
Our most current 990 can be found on GuideStar.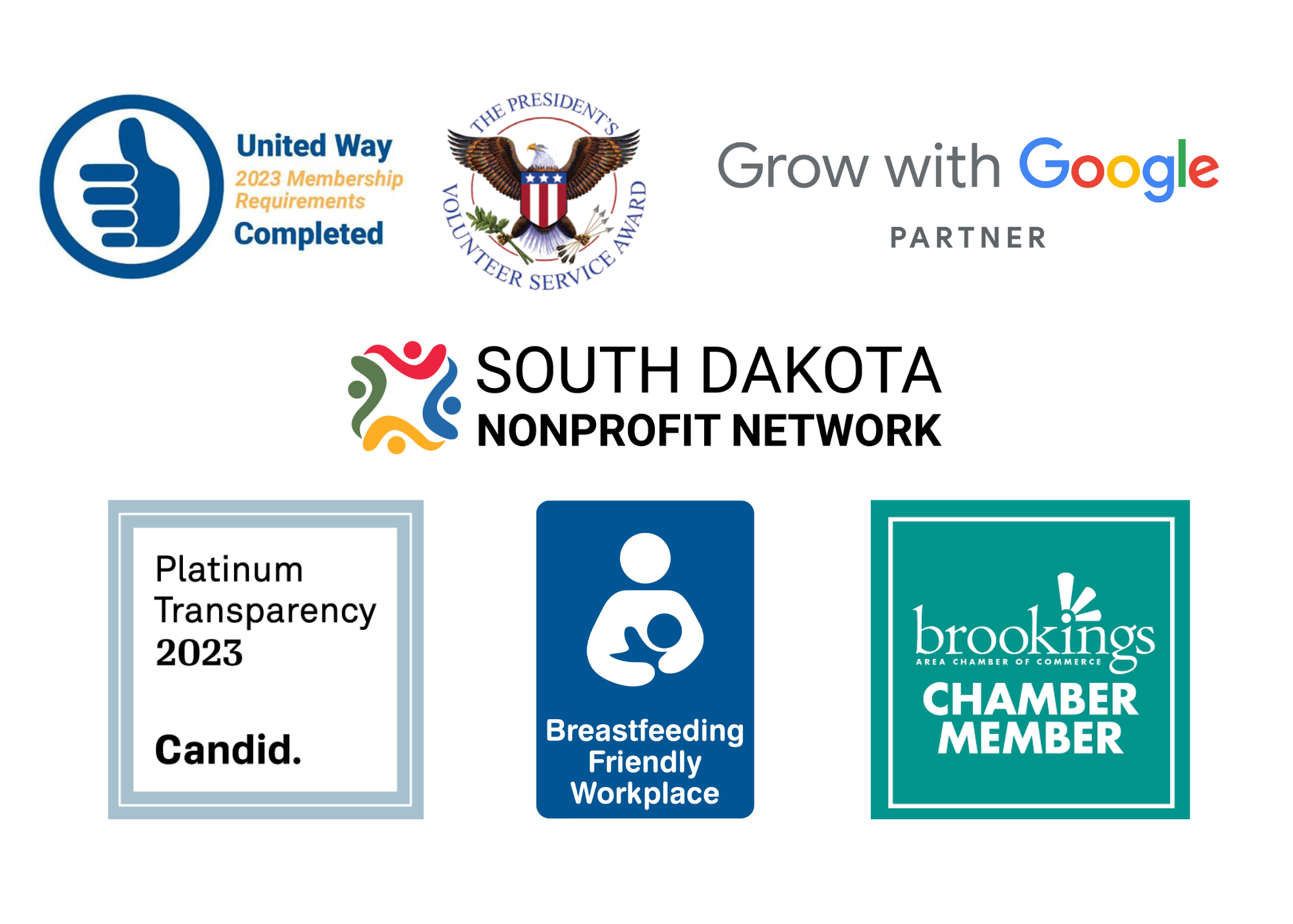 In 1955, a small group of area businessmen started the Brookings United Charities Fund. Familiar Brookings names like, Fishback, Kendall, Sexauer, Dalthorp, Blauert, McCann, and Chapman aspired to receive gifts and administer them for charitable, educational, civic and philanthropic uses. Along the way the name has changed to Brookings United Fund and now serves as the Brookings Area United Way. Although the board members and dollar amounts raised have changed through the years, the purpose stays the same:
BROOKINGS AREA UNITED WAY: UNITING PEOPLE, SHARING RESOURCES, INSPIRING HOPE, AND ENRICHING LIVES FOR A STRONGER BROOKINGS COUNTY.
The Brookings Area United Way fights for the health, education, and financial stability for every person in every community. We look for every dollar available to distribute to local nonprofits that are creating innovative solutions to common problems that plague our community. But we are more than fundraisers--we are facilitators and connectors. We connect, assist in funding, and help promote nonprofits and their accomplishments. When another nonprofit is connected to United Way, they receive much more than funding. They are able to access help in strategy, facilitating conversations, marketing, and much more. United Way promotes discussion of issues that have been overlooked for too long.
Donations to the Brookings Area United Way are distributed exclusively to Brookings Area United Way Partner Agencies selected by our board of directors. Our local leaders agree that Brookings Area United Way shall not fund agencies or requests that could be detrimental to the community as a whole due to their controversial nature. It is essential that local groups and individuals recognize that United Way funds are designed to focus on advancing the common good and not to promote political issues including, but not limited to, the pro-life/pro-choice debate.
COMMITMENT TO DIVERSITY & INCLUSION
Diversity, Equity & Inclusion Statement of Principle 
The Brookings Area United Way organization is committed to meeting the needs of the communities it serves. As an organization, we recognize and value the diversity of all individuals without regard to race, religion, color, gender, nationality, sexual orientation, physical challenge, and age. We allow zero tolerance for discrimination or harassment.
Anti-Racism and Ethnic Discrimination Statement 
We welcome that every person brings a unique perspective and experience to advance our mission and progress our fight for the health, education, and financial stability of every person in every community. Our United Way network strives to engage community members, especially those whose voice have traditionally been marginalized. We unequivocally denounce racism/ethnic discrimination because it undermines the well-being and vitality of our communities. We work with residents and public and private partners to co-create solutions that ensure everyone has the resources, supports, opportunities and networks they need to thrive.
ADDRESS

908 Hope Drive
Brookings, SD 57006

Mail to: P.O. Box 750, Brookings

EMAIL

uw@brookingsunitedway.org