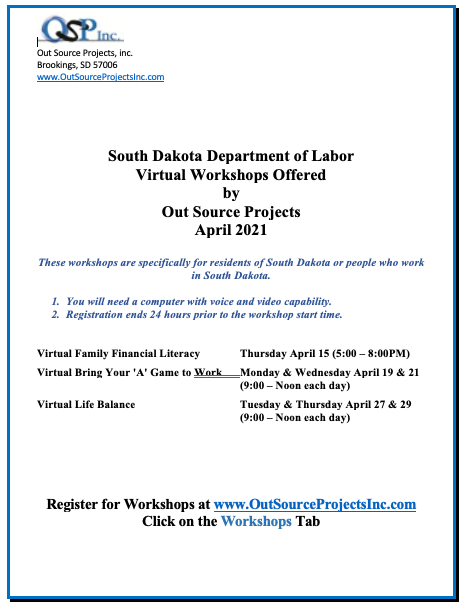 Time
9:00 am - 12:00 pm
Cost
Free
Virtual Life Balance
These workshops are specifically for South Dakota residents or people who work in South Dakota.
Be sure you have access to a computer with video and audio capabilities as these workshops are interactive!
Registration ends 24 hours hours prior to the workshop start time.
This workshop is six hours in length. The course is geared toward people who are feeling overwhelmed by day to day responsibilities in order to learn new or re-affirming coping skills to have balance in their work, school and family life. Virtually, the course is offered over two days/three hours each day. In-person workshops are 6.5 hours long with a meal included. Transportation and childcare is offered if needed.
Course Content
Impact of Life Balance
Time Management
Stress Management
Rewards
High Achiever vs Perfectionist
Maintaining a Healthy Lifestyle
Managing Conflicting Demands
Organization Tips
Support Systems